Zen Strength Update
What's my take on the Coronavirus?
You've heard a lot about the Coronavirus, what do do, what not to do, and your chances of dying from it.
So what's really going on?
How will it affect you and your life?
And what can you do to stay safe?
You'll learn more about the Coronavirus soon enough. But first, here's what's in this update:
[+] What's really going on with the Coronavirus?
[+] How do you get fresh air when there's smoke from fires?
[+] Is a big home worth the effort?
[+] How can you reach your Super Human Potential?
[+] How can fasting improve your health – and your life?
[+] Why all the hype around breathwork and ice baths?
[+] Where's the most beautiful work space in the world?
[+] What are you missing?
What's really going on with the Coronavirus?
At first I was reacting to the Coronavirus like I do with most mainstream media updates: I was ignoring it. But I kept hearing more and more about it. People were asking:
How can I be healthy – and fight off the Coronavirus?
In the context of health, I became more and more interested. I'll share some of my thoughts on what you can do to be more resilient. But first you might wonder:
Is the Coronavirus over-hyped?
Yes, absolutely. If you want to limit your risk of injury and death, the first thing to avoid would be getting into an automobile. Furthermore, you're more likely to die from cancer, heart disease, diabetes, suicide, mosquitos, and other humans (murder)!
How does the Coronavirus affect your life?
Because of the health scare inflicted by the Coronavirus, your life will be impacted in many ways. If people stop traveling and going to the dentist, the gym or even March Madness basketball games, the impact could be enormous.
Many people and businesses depend on travel, tourists, and product manufacturing. When these things stop, they stop making money, stop making payments, and face bankruptcy.
My hope is that there's a silver lining in all of this that teaches us that we can live and survive without a growing economy. We don't need to always consume products and services to survive. There are other ways to live and be happy (and even happier!).
What you can you do to fight off the Coronavirus?
You need a solid foundation for health. Basically, wash your hands well, don't touch your face, sleep, eat well, and don't stress.
You can take supplements. I load up on vitamin C – up to 1000 mg per hour – whenever I feel run down.
You can breathe your way to health. I use 2 methods of breathing. 1: Wim Hof breathing to kill virus and boost immunity. 2: [Keep reading below to find out about this lesser-known technique…]
How do you get fresh air when there's smoke from fires?
If you're in Chiang Mai during "burning season" then you know just how bad the air quality gets. The question is:
What can you do to breathe clean air?
Start with the basics. Use an air purifier in your house and car. Wear a mask outdoors.
Measure the air quality. You can look online at AirVisual.com or buy your own personal device. Then you might be surprised to see the air quality may not be any better indoors!
Breathe less air. This is the 2nd method of breathing: Buteyko. It teaches you to breathe more efficiently. One estimate showed that we breathe 3 times as much as our ancestors. If you're breathing more efficiently, you're taking in less air and getting less pollution inside your lungs.
Bonus: Build your own "Sanctuary" for fresh air. This is what I've done in my house in the basement. I closed all the windows, covered the open doorway and plugged in 4 air purifiers.
You can read more about cleaning up dirty air in my article titled, "Are you breathing dirty air?".
Is a big home worth the effort?
If you read my last update, you saw that I recently moved into a new home. We have a big house with a big yard and even a smaller house. The question I'm asking:
What do you do with a big home?
How do you keep up with the upgrades and maintenance?
For now we're renting out a couple of rooms in the house and we host events – Biohacking Socials and Breathwork with Ice Baths – on a regular basis.
As I mentioned above, I've made the basement into a Sanctuary for Fresh Air where I can work and we can host events.
We have a small herb garden in the back of the house where I recently transplanted bamboo to the wall in the back of the house that will hopefully grow to offer some privacy, shade and protection from the cell tower we can see just a few hundred meters away.
We're trying to figure out what to do with the small house – with 2 bedrooms and a bathroom. It's a bit "rustic", fixer-upper, and not up to western living standards.
Any ideas?!
How you can reach your Super Human Potential?
Along with domestic life, I continue to offer coaching to help business leaders go from tired, fat and distracted – to energetic, strong and focused.
Let me know if you're interested and we'll see if you're a good fit.
How can fasting improve your health – and your life?
I've opened up the Master Faster Detox challenge as an "evergreen" course so that students can join anytime. If you're interested in taking 4 weeks to become a Master Faster – to detox your body, gain control over your diet/weight, and boost your productivity, send me a message. I'll share more info and we'll find out if you're a good fit for the challenge.
If you want to dip your toes in the water with fasting and do it with the support of a group, you can sign up for the Free Fasting Challenge that begins on the 1st day of every month.
Why all the hype around breathwork and ice baths?
More and more people are discovering the profound health benefits of two simple (and free!) things: breath and cold. In the face of environmental stressors like spreading virus and smoke in the air (along with all of the other stressors in our lives) it's good to know that you can simply breathe to boost your immunity and resilience.
If you're in Chiang Mai, you can join us on Sundays at 12:30pm for Zen Strength Breathwork and Ice Bath workshops.
Where's the most beautiful work space in the world?
Coco Kala. It's here in Chiang Mai. And it's arguably one of the most beautiful coworking spaces in the world.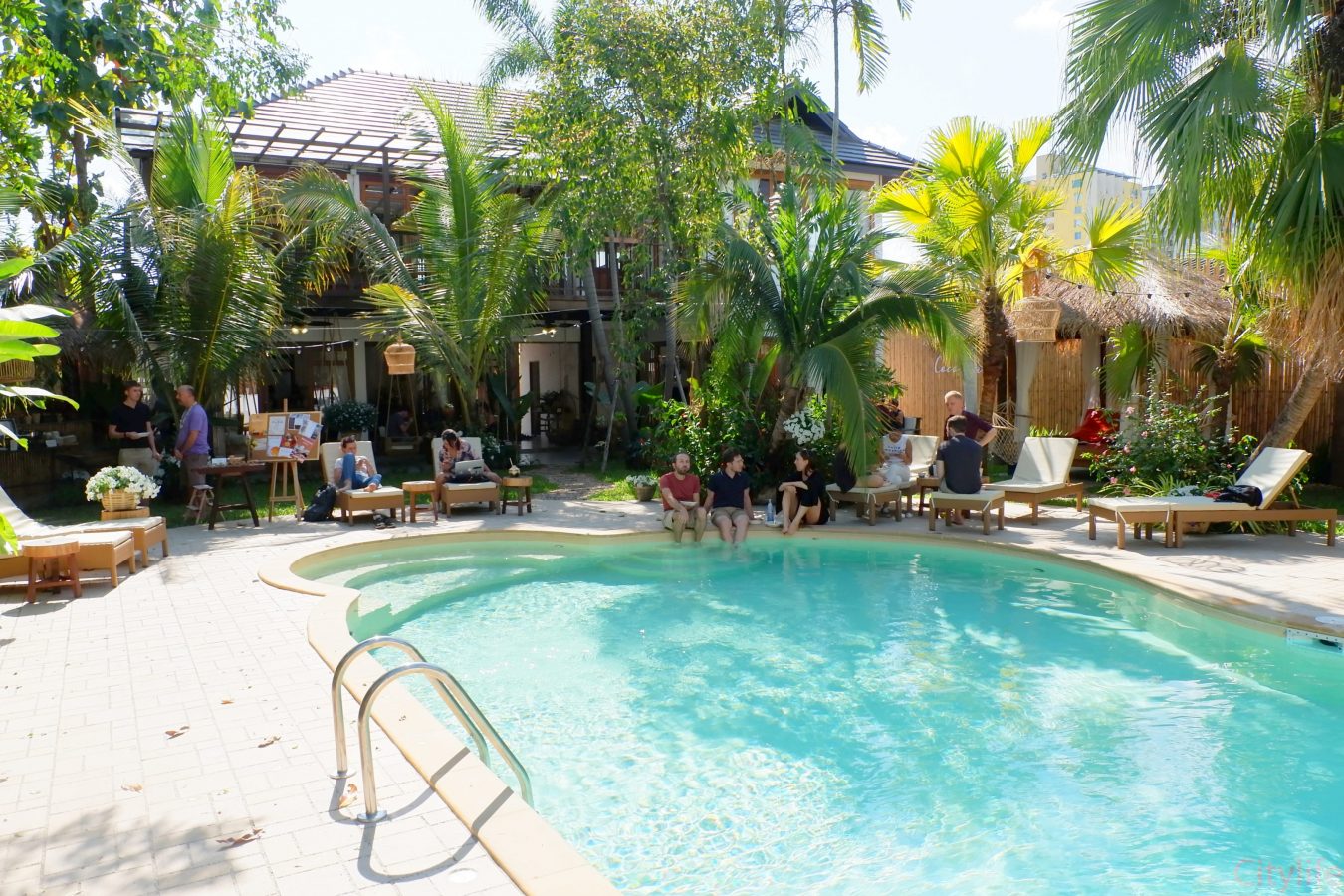 I've been coming here in Tuesdays since they started offering Ice Baths. I've even led a couple of them – along with breathwork.
What are you missing?
Here's what you may have missed:
My last round of updates that answers the question, "How will biohacking make you healthier?" – and much, much more!
My latest news updates on the Zen Strength Facebook page where you can learn more about all things biohacking, health and wellness!
What about you?
What are your thoughts and experiences with the Coronavirus, clean air, home improvements, fasting, breathwork and ice baths?
Leave a comment and let me know.